New $50 Million concept house design for Lionel Messi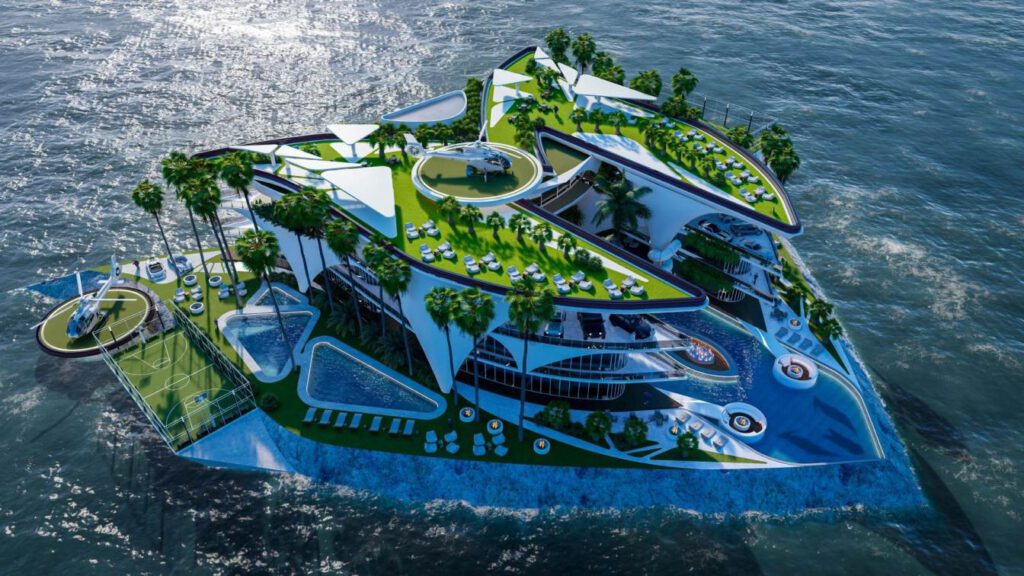 The Conceptual Architectural Project of the Messi Mansion in Miami is a work inspired by Lionel Messi's brand logo, with its iconic "M" shape clearly visible from an aerial view. This majestic mansion consists of three levels and is located on an exclusive ship-shaped island, providing privacy and a privileged location. The property is designed with luxury and comfort in mind, with a wide range of amenities to enjoy. Outside, the large swimming pools stand out, perfect for relaxing and enjoying the tropical climate of Miami. In addition, it has a large pier that allows access to yachts and other vessels, offering a first-class maritime experience.
For motoring enthusiasts, the mansion features an impressive deluxe car garage, while the garden deck provides a serene and natural space to relax in the fresh air. Inside the mansion, there is no shortage of entertainment options. Game rooms and an elegant party room are included, where residents can enjoy unforgettable moments. Additionally, a home theater offers a luxurious movie experience without leaving the property. One of the highlights of the project are the three helipads, which offer a convenient and exclusive form of air transportation to and from the mansion. For those who value panoramic views, the property offers stunning 360-degree views of the surrounding maritime landscape, providing an unparalleled connection to the beauty of Miami's coastline.
Project Name : Messi Mansion in Miami
Architecture firm: Veliz Arquitecto, Uli Architects
Location: Miami, Florida, USA
Principal architect: Jorge Luis Veliz Quintana
Design team: JJorge Luis Veliz Quintana, Ulises Del Llano
Built area: 3000 m²
Site area: 4000 m²
Client: Lionel Messi's
Status: Concept – Design
Typology: Residential › House