Dubai`s most mind blowing future projects !!!
As they grace the skyline, they serve as a testament to Dubai's unyielding determination to remain at the forefront of innovation and design.
Dubai, a city renowned for pushing the boundaries of architecture and innovation, continues to evolve as a global icon of futuristic design. Its skyline, a testament to the dreams and aspirations of this forward-looking emirate, is set to welcome a host of impressive structures that will not only redefine its landscape but also set new standards for sustainability, luxury, and creativity. Here are five remarkable projects that could soon shape Dubai's skyline: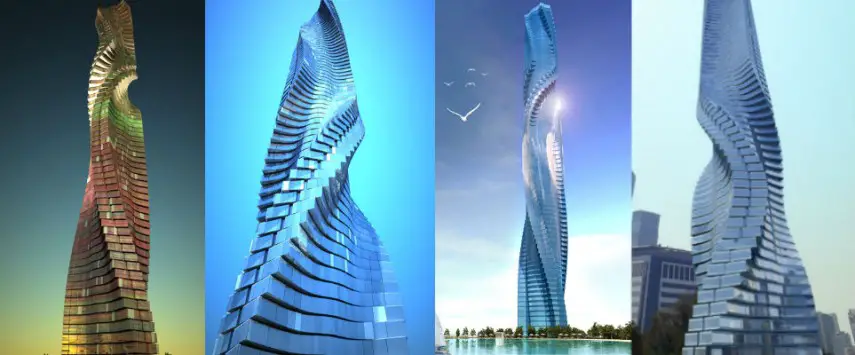 The Dynamic Tower – Rotating Splendor
Height: 1,378 feet
At the forefront of Dubai's futuristic skyline is the Dynamic Tower, an architectural marvel designed to leave you breathless. This 1,378-foot skyscraper, designed by renowned architect Dr. David Fisher, is set to be the world's first rotating tower. Its revolutionary design allows each of its 80 floors to rotate independently around a central axis, giving residents the ability to rotate their living spaces 360 degrees. Beyond its awe-inspiring aesthetic, the Dynamic Tower is a model of energy efficiency, utilizing recycled materials and smart technology to optimize power consumption. This tower promises to be a shining beacon of innovation, turning Dubai's skyline into a kinetic masterpiece.
Aladdin City – A Magical Oasis
Three towers inspired by Arabian Night stories
Drawing inspiration from the enchanting tales of Arabian Nights, Aladdin City is a trio of towers that will captivate the imagination of anyone who gazes upon them. These interconnected towers, reminiscent of ancient Arabian architecture, offer a unique blend of offices and apartments that are fully embraced by their dragon-like façades. The design, with its intricate details and mythical motifs, transports you to a world of magic and wonder. Aladdin City is not just a futuristic structure; it's a living fairytale in the heart of Dubai.
Burj Binghatti Jacob & Co Residences – Pinnacle of Luxury
Height: 100 stories
For those who seek the ultimate in luxury living, the Burj Binghatti Jacob & Co Residences promises to be the world's tallest residential tower. Soaring to a staggering 100 stories, this architectural masterpiece is set to redefine opulence. With breathtaking views of the city, each residence is designed with meticulous attention to detail and unparalleled amenities, including those from the renowned Jacob & Co brand. It's a symbol of Dubai's commitment to providing the utmost in comfort and extravagance for its residents, setting new standards for luxury living in the sky.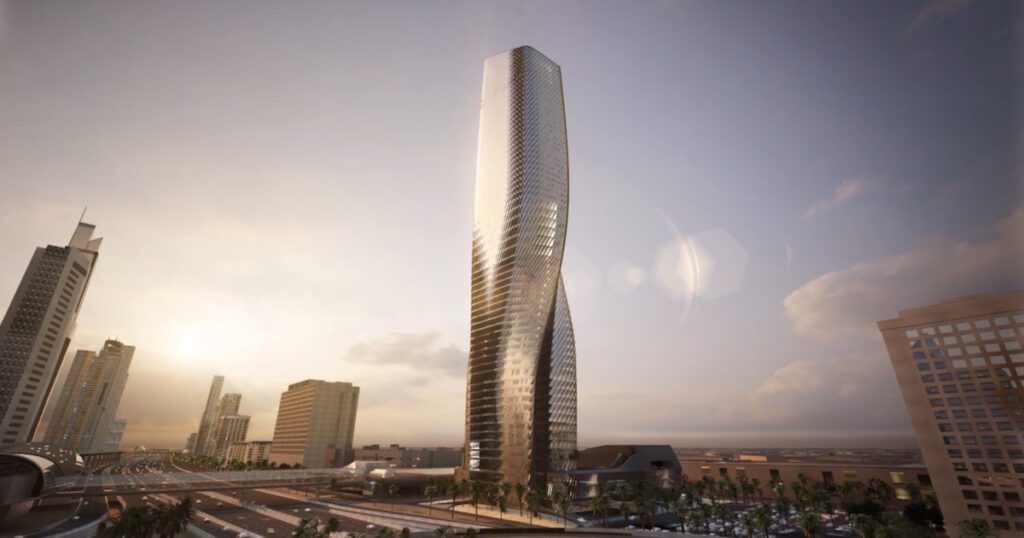 Wasl Tower – Zero Net Energy Oasis
Height: 984 feet
Dubai is not only committed to redefining luxury but also to reducing its carbon footprint. The Wasl Tower is a prime example of this commitment, standing tall at 984 feet as Dubai's first Zero Net Energy building. Harnessing renewable energy sources and employing cutting-edge technologies, this tower is a sustainable oasis in the desert city. It's a beacon of hope for a greener future, showcasing how even the tallest skyscrapers can be environmentally responsible.
AgriHub – A Green Revolution in the Desert
An agri-tourism destination with farms, restaurants, and hotels
Dubai's futuristic vision extends beyond skyscrapers. AgriHub is set to transform Dubai into a major producer of organic food while also offering a unique tourist experience. This revolutionary destination will feature farms, restaurants, and hotels, all equipped with advanced food production techniques. Visitors will witness the juxtaposition of lush greenery against the desert backdrop, symbolizing Dubai's commitment to sustainability and self-sufficiency.
In conclusion, Dubai's skyline is poised for a breathtaking transformation with these remarkable structures. From the innovative Dynamic Tower to the enchanting Aladdin City, the pinnacle of luxury at Burj Binghatti Jacob & Co Residences, the sustainability of Wasl Tower, and the green revolution of AgriHub, these futuristic landmarks not only showcase Dubai's architectural prowess but also its unwavering commitment to shaping a sustainable and luxurious future. As they grace the skyline, they serve as a testament to Dubai's unyielding determination to remain at the forefront of innovation and design.