"Apple Watch OS9 : Unleash the Future on Your Wrist!"
watchOS 9 is more than just an upgrade; it's a revolution in personalization, health tracking, and connectivity.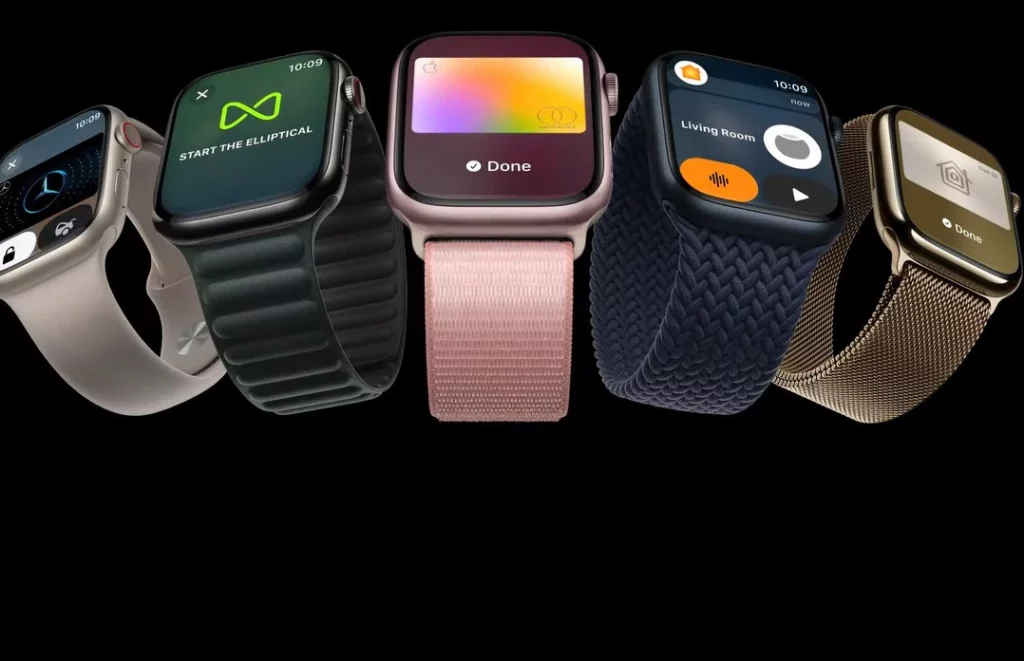 In a world where technology is constantly evolving, Apple has consistently led the charge in redefining the way we interact with our devices. With the introduction of watchOS 9, Apple once again raises the bar, offering an extraordinary blend of personalized health insights, workout enhancements, and connectivity features that make your Apple Watch more invaluable than ever before.
A Workout App with Endless Features
For fitness enthusiasts and beginners alike, the Workout app in watchOS 9 is a game-changer. Packed with an array of features, it offers a comprehensive view of your exercise regimen. By simply turning the Digital Crown, you can access metrics such as Activity rings, Heart Rate Zones, Power, and Elevation. It's a visual feast of information that helps you keep your workouts on track.
Heart Rate Zones take the guesswork out of monitoring your intensity level. These zones are automatically calculated using your health data, but you also have the freedom to customize them according to your preferences. The watch's ability to provide real-time feedback on pace, heart rate, cadence, and power empowers you to take control of your workouts like never before.
The Customizable Workouts feature lets you tailor your exercise intervals to match your unique training style. Receive timely alerts that keep you on pace to reach your fitness goals, and experience dynamic pacing that adjusts as you go. For those who thrive on competition, the Race Route function lets you challenge your previous records and receive updates as you strive to outdo yourself.
Running Form Metrics introduce a deeper layer of insight into your runs. Metrics like Stride Length, Ground Contact Time, and Vertical Oscillation help you understand your running efficiency. The inclusion of Running Power provides an instantaneous measure of your effort, ensuring you stay within your sustainable limits.
A Redesigned Compass for Precision Navigation
Navigating your way through the world has never been more accurate, thanks to the redesigned compass in watchOS 9. Whether you prefer hybrid, analog, or new orienteering views, simply turn the Digital Crown to switch between them. This upgrade is a boon for outdoor enthusiasts and explorers.
Enhanced Health Insights: Medications and Sleep Tracking
Managing your health has never been easier. The Medications app ensures you never miss a dose of your important medications or vitamins. Its seamless integration with your daily routine makes it feel like second nature.
Sleep Stages is like a bedtime story that you get to explore each night. Discover how much time you spent in REM, Core, or Deep sleep and gain insights into your sleep patterns. The Health app on your iPhone offers sleep comparison charts, displaying metrics like heart rate and respiratory rate, allowing you to understand how your health evolves throughout the night.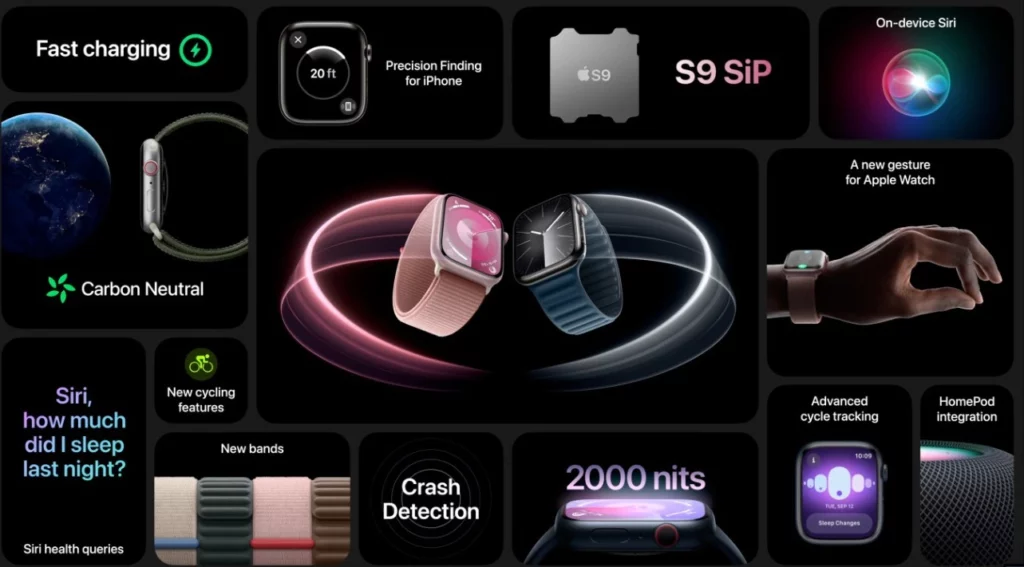 Personalized Watch Faces: Your Style, Your Way
The watch faces in watchOS 9 offer a level of personalization like never before. The Metropolitan face allows you to customize the font of the numerals, giving you complete control over the look and feel of your watch. The Playtime face, a collaboration with artist Joi Fulton, adds a touch of whimsy to your wrist. For the stargazers, Astronomy is remastered to take full advantage of the expansive display, offering a real-time view of cloud coverage around the world.
The Portraits face brings your beloved pets to the forefront, allowing you to put pictures of your furry friends on your watch. You can even use the editing mode to add a tint to the background layers of a photo, creating a watch face that truly reflects your personality. With a wide range of colors and gradients available, you can further customize your watch face to match your mood and style.
Enhanced Connectivity and Accessibility
The watchOS 9 experience extends beyond your wrist. With the Apple Watch Mirroring feature, individuals with physical and motor disabilities can seamlessly stream their Apple Watch to their iPhone. This feature empowers users to fully control their watch using assistive features like Switch Control and Voice Control on their iPhone, making the Apple Watch more accessible and inclusive than ever before.
Notifications Without Distractions
In a world filled with notifications, watchOS 9 brings a touch of refinement. When actively using your watch, notifications arrive as unobtrusive banners. When your wrist is down, they transform into full-screen notifications, ensuring you never miss important updates.
Apple Watch Series 9 prices start at 399 for GPS variant and $499 for the cellular model.
In conclusion, watchOS 9 is more than just an upgrade; it's a revolution in personalization, health tracking, and connectivity. Whether you're a fitness enthusiast, an explorer, or someone who simply appreciates the finer details in life, the Apple Watch with watchOS 9 has something to offer everyone. It seamlessly integrates into your daily routine, offering a level of personalization and insight that is unparalleled in the world of wearables. So, if you're ready to take your smartwatch experience to the next level, watchOS 9 is here to make it happen.