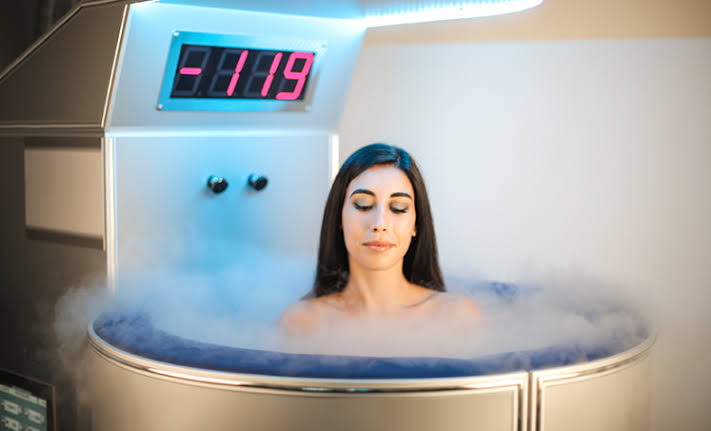 What is Cryotherapy ?
Cryotherapy is application of extremely cold air for several minutes to remove abnormal tissues , this therapy is also called Cryoblation.To create cold air , the therapist use a substance – liquid nitrogen or Argan Gas.
Benefits of Cryotherapy
– Boosts Performance
– Accelerate Muscle Recovery
– Anti – Aging
– Burn Calories
– Increase Collagen Production
– General Wellness
– Rheumatoid Arthritis
– Skin Conditions – Psoriasis , Dermatitis etc.
Procedure of Cryotherapy
– Person is exposed to extremely cold temperature in a tube like chambers , which is cooled by liquid nitrogen temperature between 80 degree and 110 degree.
– During this process , body gets charged with Oxygen and excess toxins are flushed out increasing metabolic rate.
How many Cryotherapy sessions are needed ?
In General , 1- 2 sessions are required for general well – being.
Dangers of Cryotherapy
Exposure to extreme cold temperature can get risks of –
High Blood Pressure
Heart/ Lungs Disease
Allergy Symptoms
Neurological Symptoms

Cryotherapy Price in India
Generally , it costs between INR 4500 – 7000 for a session , although it depends upon wellness provider.
How long Cryotherapy effects last ?
The effects of Cryotherapy lasts for 6-8 hours after treatment.
Who should not do Cryotherapy ?
Persons with High Blood Pressure , Childrens and Pregnant women should avoid taking Cryotherapy.
Can you do Cryotherapy at Home ?
Yes , it is simple , but you have to use good old ice packs that will help to reduce sprain or strain. But going to wellness centre is preferable as Cryotherapy uses dry cooled air whereas ice bath uses wet cold .