Apple Unveils the 'Most Pro' iPhones : iPhone 15 Pro and iPhone 15 Pro Max with Titanium Build and Toughened Glass
iPhone 15 Pro and iPhone 15 Pro Max represent Apple's continued dedication to pushing the boundaries of what a smartphone can achieve.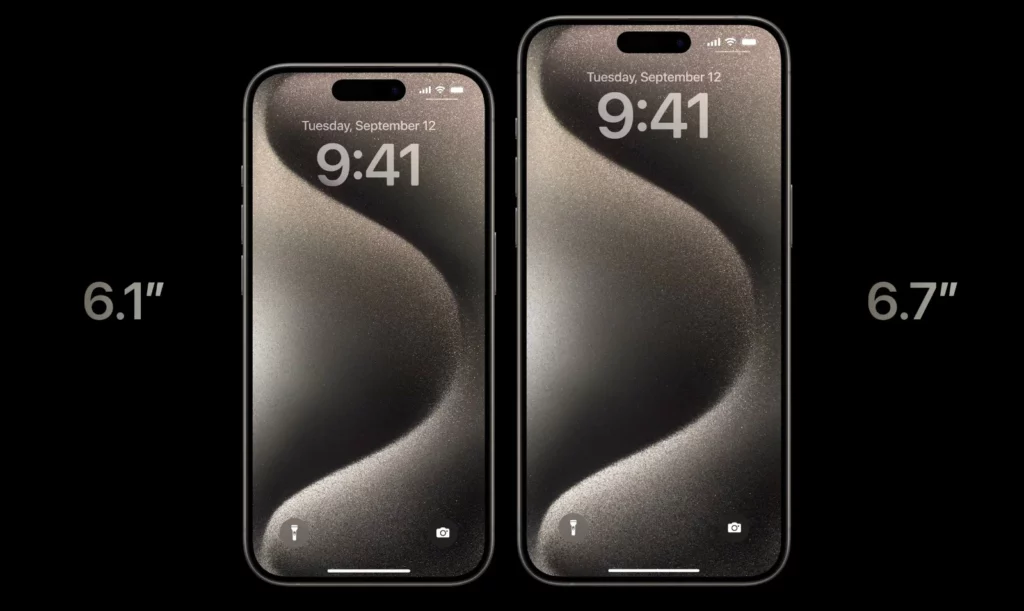 Apple has once again raised the bar with its latest offerings, the iPhone 15 Pro and iPhone 15 Pro Max. These new iterations of the iconic smartphone not only maintain the sleek and sophisticated design that Apple is known for but also introduce some significant upgrades that are sure to please even the most demanding users. One of the most notable changes is the adoption of a titanium body and toughened glass, which enhances durability and premium aesthetics.
The iPhone 15 Pro and iPhone 15 Pro Max maintain the familiar form factor of their predecessors but come with a stunning titanium body, making them more robust and resilient than ever. The use of titanium not only gives the devices a luxurious and premium feel but also ensures they can withstand the rigors of daily life. This material is known for its exceptional strength-to-weight ratio, making it a perfect choice for a high-end smartphone.
The toughened glass on the front and back further adds to the durability of these devices, providing protection against scratches and accidental drops. Although Apple has introduced new color options, it's worth noting that the beloved gold color has been omitted this time around, offering users a fresh palette of choices to reflect their style.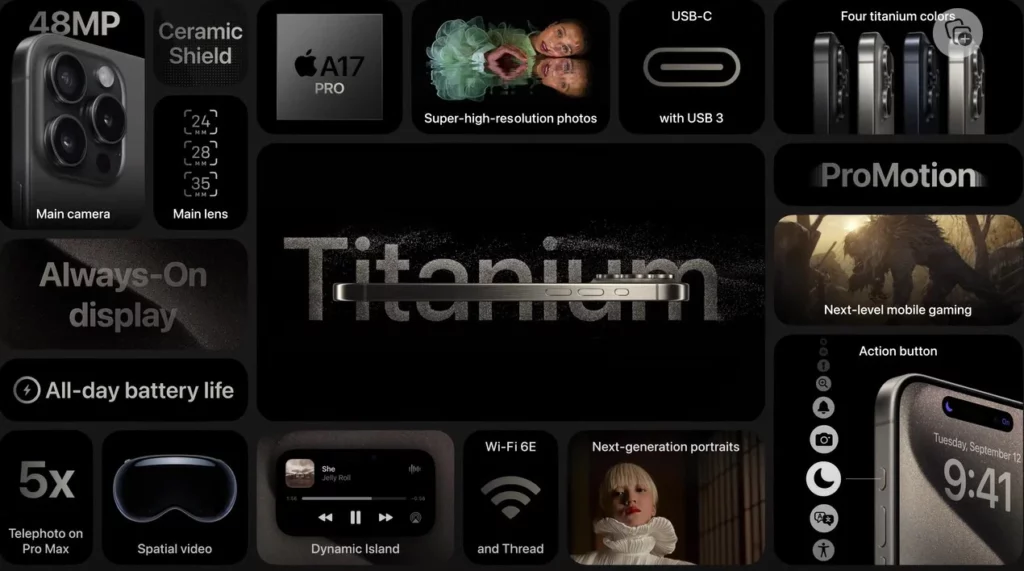 The iPhone 15 Pro and iPhone 15 Pro Max continue to feature stunning Super Retina XDR displays, with sizes remaining consistent at 6.1 inches and 6.7 inches, respectively. However, the standout improvement is the incorporation of a 120Hz refresh rate, ensuring smoother scrolling, enhanced responsiveness, and a more immersive viewing experience.
Under the hood, these iPhones are powered by the A17 Bionic SoC, which incorporates ray tracing for improved graphics performance. This chipset not only boosts the overall speed and responsiveness of the device but also enables more demanding tasks like gaming and content creation to run seamlessly.
Another welcome change is the inclusion of a USB-C port for charging, which not only provides faster charging times but also offers quicker data transfer speeds for seamless connectivity with other devices.
Apple has always been at the forefront of smartphone photography, and the iPhone 15 Pro and Pro Max continue this tradition. Both models retain their 48MP primary cameras but introduce several enhancements. These include improved fogging and ghosting protection, along with AI tweaks that optimize image quality in various shooting conditions.
The optical zoom has also received an upgrade, now capable of reaching up to 5X with a 120mm focal length, enabling users to capture richer portraits and distant subjects with exceptional clarity. Additionally, the introduction of an ultrawide camera with macro photography capabilities opens up creative possibilities for users interested in capturing more of the world around them.
To ensure even better low-light photography, these devices come equipped with a LiDAR scanner, helping to improve focus and depth perception in challenging lighting conditions.
The iPhone 15 Pro starts at a competitive $999, while the larger iPhone 15 Pro Max comes in at $1199. These price points maintain Apple's commitment to offering premium products with a range of features while catering to different budgets.
Apple has always been a favorite in the Indian market, and pricing details for India will be shared shortly, allowing fans and enthusiasts to plan their purchases accordingly.
In conclusion, the iPhone 15 Pro and iPhone 15 Pro Max represent Apple's continued dedication to pushing the boundaries of what a smartphone can achieve. With a titanium build, toughened glass, enhanced camera capabilities, and a faster processor, these devices promise to deliver a premium experience to users who demand nothing but the best. As the iPhone continues to evolve, Apple's commitment to innovation and user satisfaction remains stronger than ever.