"Palatial Paradise: Discover the Top Seven Palm Jumeirah Hotels for a Luxurious Escape"
Palm Jumeirah is a world-renowned haven of luxury, and these nine remarkable hotels offer an array of experiences to cater to every traveler's desires.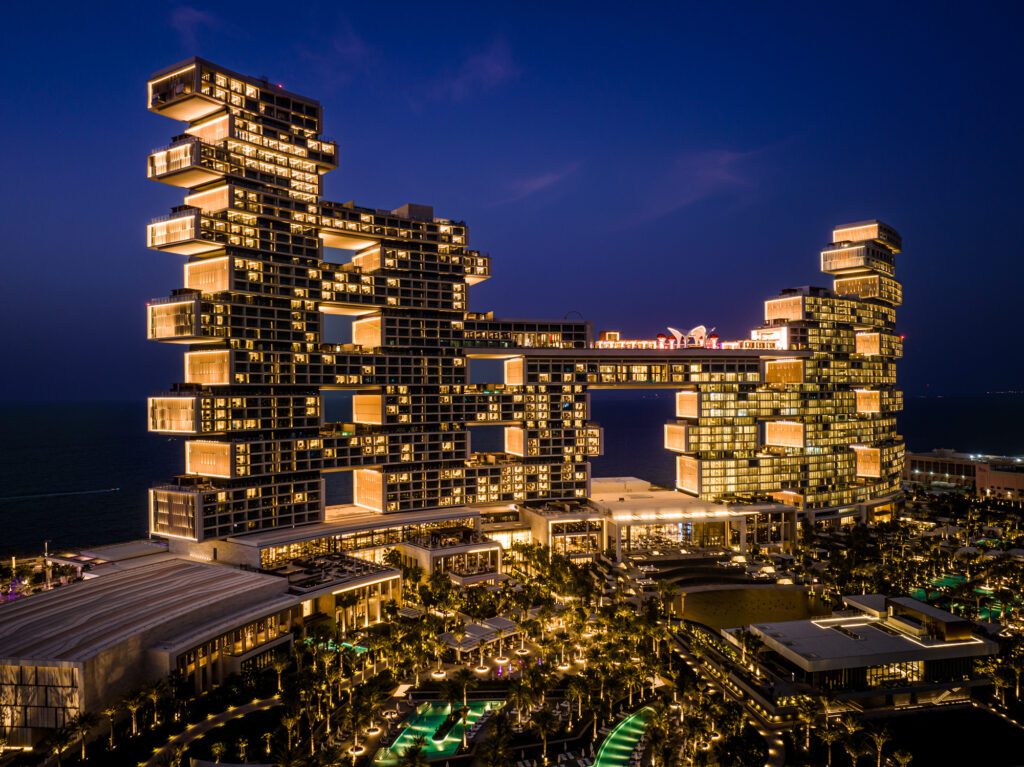 Palm Jumeirah, a man-made wonder that graces the Dubai coastline, is synonymous with luxury, extravagance, and opulence. Home to some of the world's most prestigious resorts, it's no wonder that choosing the perfect place to stay can be a delightful dilemma. In this article, we'll take you on a tour of nine of the best hotels on Palm Jumeirah, each offering a unique blend of luxury, amenities, and experiences.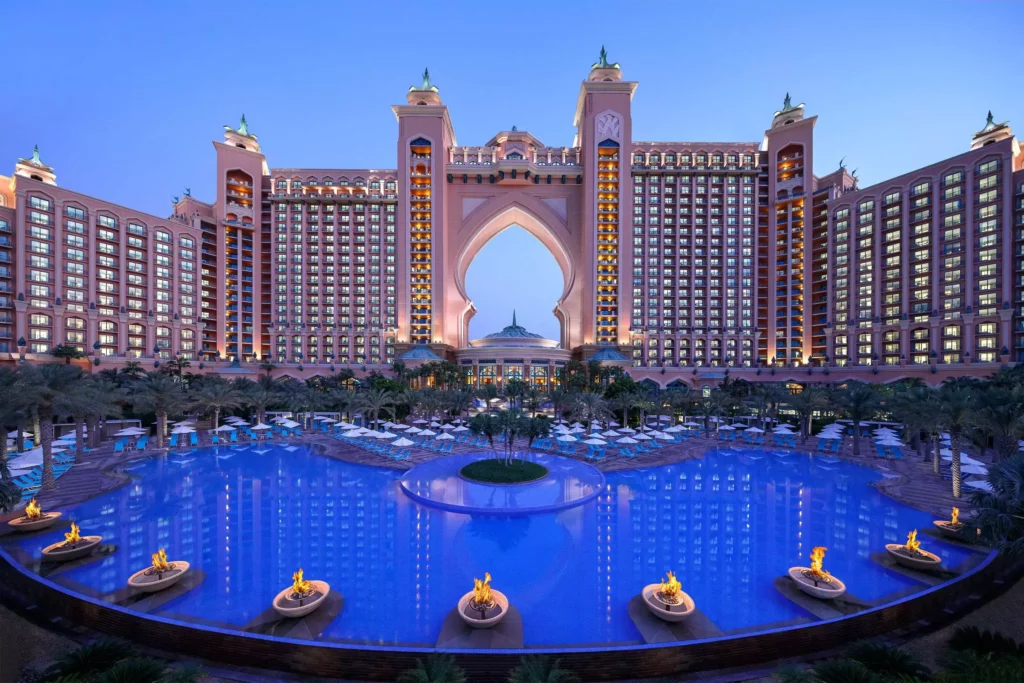 1 – Atlantis, The Palm:
As the first resort to grace the Palm Jumeirah's shores, Atlantis, The Palm is nothing short of iconic. Boasting over 1,500 rooms, it's a destination in itself. The resort features world-class restaurants, a colossal aquarium, the thrilling Aquaventure waterpark, and pristine private beaches. For an unforgettable experience, book one of their underwater rooms with mesmerizing views into the Lost Chambers aquarium.
2 – Anantara The Palm Dubai Resort:
Anantara The Palm Dubai Resort redefines luxury with its over-water villas, a rare gem on the Palm. Nestled around a serene lagoon and pool, the resort offers guests the choice of lagoon-side villas with private pools or overwater villas on two piers extending into the sea. Pamper yourself at the tranquil Anantara Spa and escape into serenity.
3 – FIVE Palm Jumeirah Dubai:
For those seeking a vibrant atmosphere, FIVE Palm Jumeirah is the ultimate choice. While the rooms are impeccable, the resort truly shines with its dynamic restaurants, lounges, and beach club. With year-round live entertainment, legendary parties, and top-notch dining, there's never a dull moment at FIVE.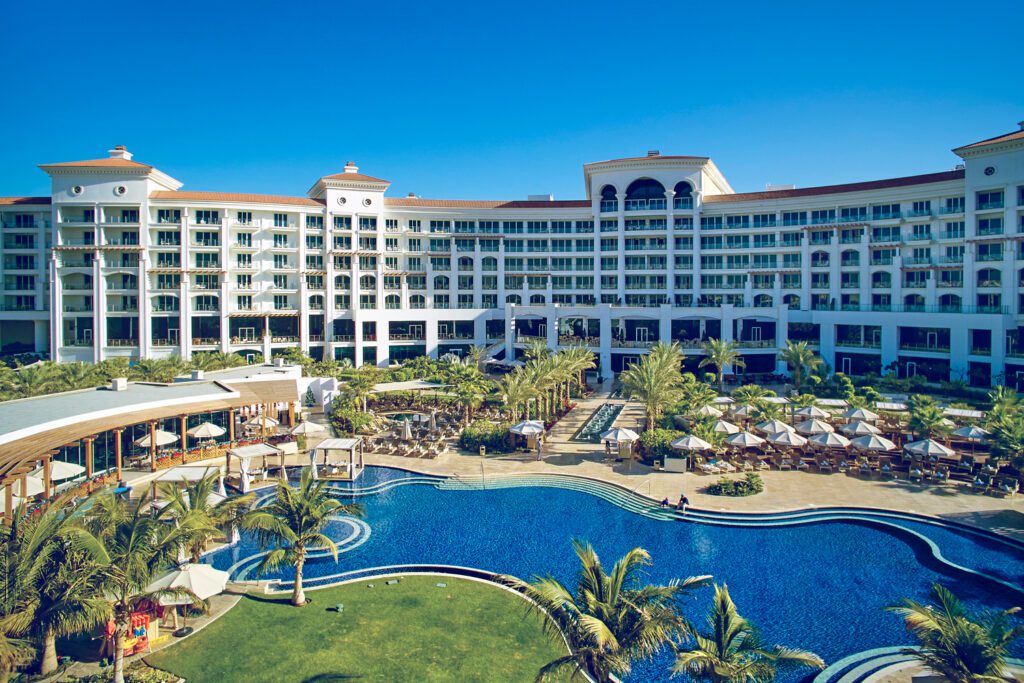 4 – Waldorf Astoria Dubai Palm Jumeirah:
Continuing the tradition of Waldorf Astoria's luxury and impeccable service, this resort sits on the exclusive shores of Palm Jumeirah. With sea-facing rooms, a multi-award-winning spa, watersports center, and fitness suite, it offers a refined experience. Guests can savor Neapolitan Italian cuisine at Italian Social or indulge in French-Vietnamese delights at LAO.
5 – Raffles the Palm Dubai:
Inspired by European palaces, Raffles the Palm Dubai exudes grandeur and elegance. With nearly 400 rooms, suites, and villas, each accompanied by 24-hour butler service, the resort promises a royal experience. Enjoy breathtaking views of Palm Jumeirah and Dubai Marina, private beaches, outdoor and indoor pools, and even a private 80-seat cinema. The dining choices range from regal elegance to contemporary fusion.
6 – W Dubai – The Palm:
W Dubai – The Palm offers a contemporary and vibrant experience amidst the tranquility of Palm Jumeirah. With artistic decor and a music-oriented atmosphere, live performances by bands and DJs are a regular feature. Culinary delights include futuristic cuisine at Akira Back's restaurant and traditional Italian dishes at Massimo Bottura's Torno Subito.
7 – Atlantis The Royal Resort:
The eagerly awaited Atlantis The Royal Resort is the latest gem on Palm Jumeirah. This architectural marvel offers palatial interiors and stunning design. Stretching over 500 meters of prime beachfront, it redefines luxury. The resort houses more celebrity chef restaurants than anywhere else in the world, including the contemporary British flavors at Dinner by Heston Blumenthal and the beachside Nobu for Japanese cuisine.
Conclusion:
Palm Jumeirah is a world-renowned haven of luxury, and these nine remarkable hotels offer an array of experiences to cater to every traveler's desires. Whether you seek tranquility, excitement, fine dining, or unparalleled service, each of these resorts will leave you with unforgettable memories and a taste of the opulence that Dubai is known for. Your stay on Palm Jumeirah will undoubtedly be a luxurious escape to remember.